Diocesan & Neighboring Parish News
A Morning of Renewal
Our Lady of Lourdes Altar Rosary Society in Milltown invites women to join the Society in a time of peace, reflection, and prayer on Saturday, October 20, at 9:00 a.m.
Fr. Krieg of the Vincentian Fathers will be the retreat director leading in reflection as he speaks of "The Cross". This retreat will begin with a morning of reflection followed by an opportunity to participate in the Sacrament of Reconciliation, a time to worship at Mass, and fellowship during lunch. The retreat will conclude with final moments of reflection.
Our guests are asked to bring their "brown bag lunch.'' Coffee, tea, and desserts will be provided. The retreat is free. To register, please call Mary Lynch by October 15. Please register by October 15 by calling Mary at 732-828-9310.
---
Surviving a Loss
This is a 6 week spiritually based bereavement group that will begin Wednesday, October 24th at Frances E. Parker in Highland Park. The group will be held on Wednesday afternoons from 1 to 3 pm. There is no cost for the program but registration is required. I am a licensed professional counselor and will be co-facilitating the group with Sr. Kathleen Dullea. Anyone interested in registering for the program and/or to receive additional information can contact me, Kathleen Ostertag at 732-390-5135.
---
Please contact your state legislators and tell them that you oppose A1504
On Monday, October 29, 2018, the New Jersey General Assembly very likely will vote on the Aid in Dying for the Terminally Ill Act (A1504). The bill would allow physicians to prescribe drugs to end the lives of terminally ill individuals considered to have six months to live.
The facts are clear - in California, in Vermont and in Oregon - states that have passed assisted suicide bills - insurance companies have denied individuals expensive healthcare coverage but offered them low cost drugs to end their life.
In an era of cost control and managed care, patients with lingering illnesses may be branded as a financial liability for the insurance company, and decisions to encourage death could be driven by reducing costs.
Please contact your state legislators and tell them that you oppose A1504. Click the link below to log in and send your message: https://www.votervoice.net/NJCC/ Campaigns/57657/Respond
---
Pocketbook Bingo Cheerleading Fundraiser for Saint John Vianney High School
Saint John Vianney High School is hosting a CHEERLEADING Fundraiser at SJVHS POCKETBOOK BINGO on Thursday, November 8th,2018 General Admission and Game Package $30.00. Register online at www.sjvhs.com.
---
Seven Thursdays that will change your life: Life in the Spirit Seminars
Thursdays September 13 through October 25, 2018, 8:00pm
at St Francis Cathedral, Main Street & 32 Elm Ave, Metuchen, NJ
Basic Gospel Truths: Jesus died for your sins & God invites you to experience New Life in Christ, Abundantly.
Got Questions or to Register, Contact Tom Mockoviak at 732 549-4740 or mockofam@optonline.net
---
Catholics Returning Home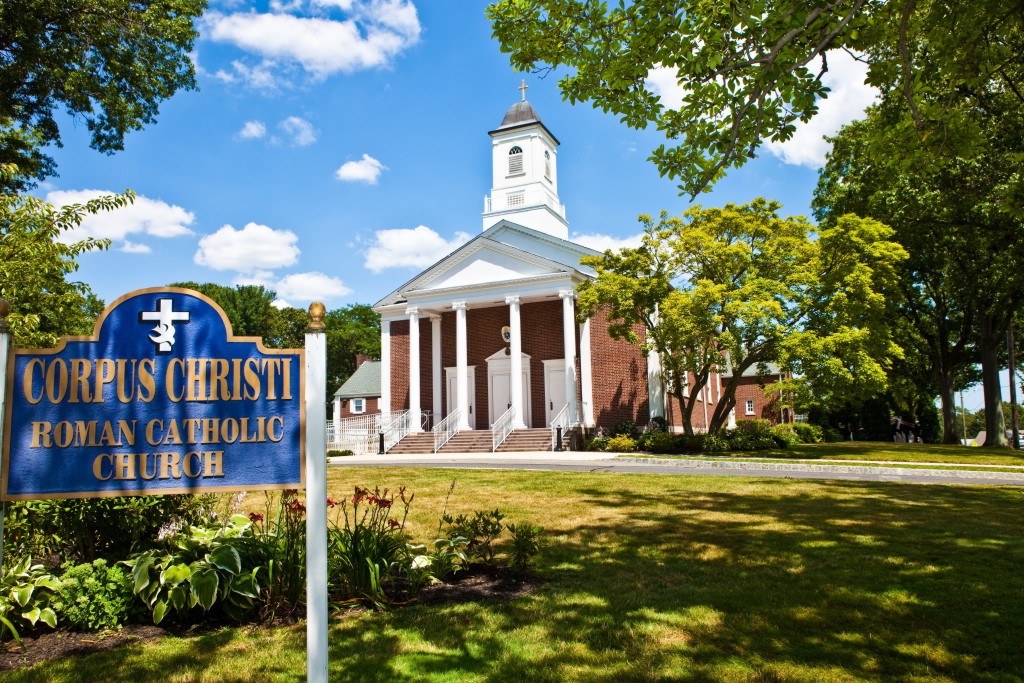 Corpus Christi Roman Catholic Church, 100 James St. South River, NJ 08882 will offer a series entitled "Catholics Returning Home" on six consecutive Saturday evenings at 7:00pm in the Rectory Meeting Room beginning September 15, 2018. These sessions are for nonpracticing Catholics who are seeking answers to questions about returning to the Church. If you know someone who has left the church, please invite them to join us.
---
Bishop gathers senior team to examine processes for reporting abuse
Since becoming your bishop just over two years ago, I have been regularly uplifted - and affirmed in my own ministry - by so many faithful and committed priests, religious and lay people. I am constantly amazed to learn about new initiatives here which strive to deepen our friendship with Christ, and the numerous efforts that so many undertake to provide genuine responses to tragic situations that call upon us to show the mercy of God to those in need. I also feel strengthened by the examples of generosity that I have experienced when I have called upon you to help me respond to building up our local Church, in order that we can meet so many needs together. The people of the Diocese of Metuchen are an inspiration...
Read the full letter from Bishop Checchio
---
A Journey Through Grief
September 20th-November 29, 2018
6:30—8:30pm at
St. Ambrose Church
83 Throckmorton Lane, Old Bridge, NJ

Please contact the St. Ambrose Church Parish Office:
732-679-5666

There is no fee. Pre-registration required.
---
Silver & Gold Wedding Anniversary Celebration
Where: Cathedral of St. Francis of Assisi, Metuchen
When: 4:00pm on October 21, 2018
Register by October 3, 2018
You are cordially invited to celebrate your 25th or 50th Wedding Anniversary with the Church of Metuchen. Renew your marriage vows with Bishop James F. Checchio at a special Evening Prayer Service in the Cathedral of St. Francis of Assisi, Metuchen.
Please register online by logging on to the diocesan website. The system will automatically generates a confirmation message with some facts about the event. More specifics will be sent closer to the occasion. If you are unable to access, please contact your parish secretary or the Family Life Office at 732-243-4582, amatos@diometuchen.org.
Even though no fee is required, in the past many Jubilarian couples have given a donation of gratitude to the Church in memory of this special occasion. Donations of Gratitude can be made online or calling 732.243.4582, Monday thru Friday, during business hours.
Registration will close on Wednesday, October 3rd, 2018
---
Vianney Institute at Saint John Vianney High School High School Placement Test Prep Course
The High School Placement Test, or HSPT, is given to eighthgraders seeking admission to specific Catholic high schools. Schools use exam results to make admissions decisions, to place applicants, and to determine scholarship awards. The standard HSPT lasts approximately two and a half hours and contains 298 multiple‐choice questions divided into five sections—Verbal, Quantitative, Reading, Mathematics, and Language Skills.
This course is geared toward preparing students for the High School Placement Test, the standardized test used to assist with admissions and curriculum placement in the Catholic High Schools of the Diocese of Trenton.
Course Price: $225.00 includes workbook. Two weekly class/ 4 session.
Session Time: 3:30-6:30
Session Dates: Tuesday, October 23rd & Thursday, October 25th, Tuesday, October 30th & Thursday, November 1st Registration for this Prep Class Closes Monday, October 1st, 2018
In each class, student will receive 1 hour 25 minutes of English, 1 hour 25 minutes of Math and a 10-minute break in-between. Please Note: The HSPT will be given at SJVHS on Saturday, November 3, 2018.
All incoming 9th graders are required to take the High School Placement Test (HSPT). By filling out the online application and paying the $60 application fee, you will automatically be registered to take the test at Saint John Vianney High School. The placement test will be held on Saturday, November 3rd , 2018 at 8:00 am. Students are to bring two #2 pencils (no calculators permitted). Parents will receive an email notification of the SJV classroom to which the student is to report. Application Deadline is November 1, 2018,
---
Pilgrimage to the Holy Land During Lent 2019
Our Lady of Peace Church in North Brunswick, NJ is celebrating its 50th Anniversary in 2019 and has organized a Pilgrimage to the Holy Land (Israel) during the season of Lent, 2019 - for an all inclusive price of $ 2,499 per person. Please visit the Our Lady of Peace website for the detailed Holy Land Itinerary & Flyer. Deposit of $500 (Non-refundable) due immediately. Balance amount payable on/before December 01, 2018. Come take some time off during Lent in 2019 and journey to the Holy Land.
---
Pilgrimage to the Holy Land
Walk in the Footsteps of Christ, Moses & the Virgin Mary
Relive the Mysteries of the Holy Rosary
November 6-16, 2018, 11 Days, 4-Star Hotels
Organized by Fr. Abraham Orapankal, Tour Chaplain
Pastor, St. John Neumann, Califon, NJ
$2790.00 from Newark (plus $570 airline taxes, security fees & fuel surcharge)
Price includes breakfast and dinners daily, Daily Mass, Professional Guided Tours & Tips, renewal of Marriage Vows in Cana, transfers and baggage handling.
For more info call Juliet Banaag Hobson 732-439-2855 or email yetjcb@aol.com
This Week's Bulletin
Bulletin Archives